Nicholas Negroponte Featured on 60 Minutes
Submitted by ashar on May 23, 2007 - 12:43pm.
The Internet & Society Conference keynote speaker, Nicholas Negroponte, was featured on 60 minutes this past weekend. You can watch a video of the piece here.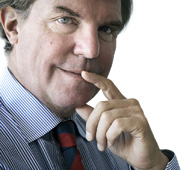 Negroponte's idea was that kids don't need teachers to learn the how to use the computer. They can pick it up by experimenting on their own - with help from a friend.

"That is what we are doing - is that that kid is showing this kid - that is key," he says.

"They get it instantly. It takes a 10-year-old child about three minutes."

When Stahl asks if he means children who have never used any computer before, Negroponte responds, "Children who've never, in some cases, seen electricity."