Media
Submitted by mediaberkman on June 21, 2007 - 6:39pm.
Gavin Yamey on "Opening Up to Open Access: What Can Other Disciplines Learn from the Sciences?"
What can academics do to ensure that their research results are included in the growing "knowledge commons?" Gavin Yamey MD, Senior Editor of PLoS Medicine and Consulting Editor of PLoS Neglected Tropical Diseases, shares his experiences in the open access movement and explores possible avenues for its expansion to other fields, with a focus on the social sciences and humanities.
The Public Library of Science, an international non-profit grassroots movement of scientists and physicians, is working to change the status quo by campaigning to make the biomedical literature a freely available global public good. PLoS now publishes 7 open access journals, and is urging traditional biomedical publishers to adopt more socially responsive practices. Will other fields follow in their footsteps?
This event was sponsored by the Berkman Center and Harvard College Free Culture and took place on Wednesday, March 14 at Harvard University.
Submitted by mediaberkman on June 21, 2007 - 6:16pm.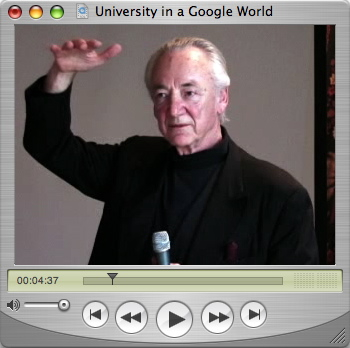 Charles Nesson, Harvard Law School Professor and Berkman Center for Internet & Society Founder spoke before Harvard University Librarians at a luncheon hosted by Professor and Librarian Sid Verba. He spoke about University libraries of the future in a talk called "University in a Google World" on February 22, 2007.
Submitted by mediaberkman on June 21, 2007 - 6:08pm.
How Open Will Harvard Be to Internet & Society? That's the big question for the Internet & Society 2K7 Conference, set for May 31 and June 1, 2007. What would a more open Harvard mean or look like for faculty, for staff, for students, for alumni? Is there an understanding among all as to what open access is? The process and the conversations in the lead up to the Spring conference are integral in the shaping of the conference; at this Tuesday's lunch, Professor Nesson spoke about his hopes for Internet & Society at Harvard. As importantly, he solicited the spirited the needs, desires and perspectives of those affected by the policies across Harvard and beyond.
Charles Nesson, with fellow Harvard Law Professor Charles Ogletree, has been chairing biannual Internet & Society conferences since 1996. He has written about his prelinimary hopes for this conference over at his blog.